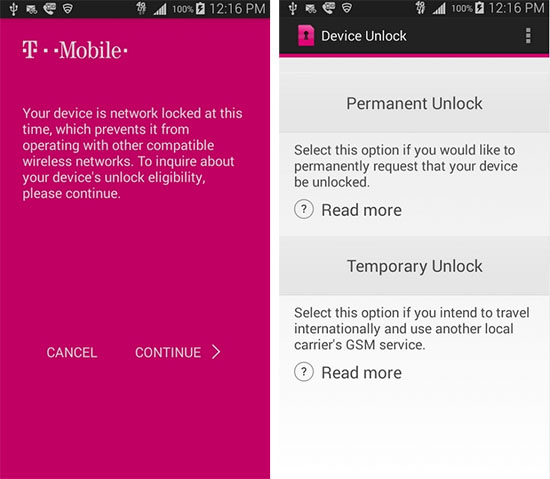 Supported Models :
Alcatel One Touch POP Astro (5042T)
Coolpad Rouge (3320A)
HTC Desire (626S)
HTC One (M9)
Kyocera Hydro Wave (C6740)
LG G Stylo (H631)
LG G4 (H811)
LG Leon (H345KT)
LG V10 (H901)
Samsung Galaxy Grand Prime (SM-G530T)
Samsung Galaxy Core Prime (SM-G360T)
Samsung Galaxy Avant (SM-G386T)
Samsung Galaxy S6 (SM-G920T)
Samsung Galaxy S6 Edge (SM-G925T)
Samsung Galaxy S6 Edge Plus (SM-G928T)
Samsung Galaxy S7 (SM-G930T)
Samsung Galaxy S7 Edge (SM-G935T)
Samsung Note 5 (SM-N920T)
Sony Xperia Z3 (D6616)
ZTE Avid Plus (Z828)
ZTE Obsidian (Z820)
ZTE Zinger (Z667T)
IMPORTANT: Please Check to see if the Unlocking App is eligible for your phone.
Launch the "Device Unlock App" to check status
If you receive "Not Eligible for Unlock", please proceed and submit your IMEI # for processing.
If you receive "Communication Error" or "Server not responding, please try again later", DO NOT submit your order as it is not supported for unlocking (No refunds will be provided for any orders submitted with either of these error messages).
T-Mobile APP Download link: https://play.google.com/store/apps/details?id=com.tmobile.simlock&hl=en
Delivery Times and Cancellation

All unlock codes and unlock confirmations are sent by email to the email address that the customer enters on the order form. Delivery times shown on the website are guidelines on...

Delivery Times and Cancellation

Refunds

Refunds If no unlock code is found for a particular phone, a refund will be processed within 24 hours of us becoming aware that no code is available. All refunds can take around 7 ...

Refunds

Fraud Protection

As a result of the so many fraudulent orders that we receive each day, it is imperative that we take all necessary measures to minimize credit card fraud. Therefore, we reserve th...

Fraud Protection